Sammie has been rehomed

An older small dog that needs to a forever home
Sammy is a BishonX, 10 year old dog
Date of Birth: unknown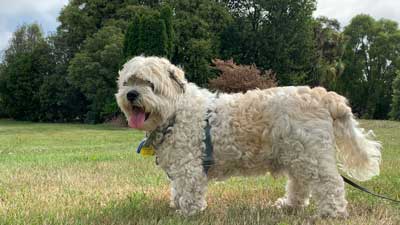 Sammie is around 10 years old. He's a BishonX, neutered.
* Sammie is very quiet. He doesn't bark at other dogs, plays well although he prefers to be on his own.
* He is greets people with four feet on the floor (ie doesn't jump on people)
* He walks nicely on the lead
* He comes back when called-- much faster if you have a treat :)

Sammie is being rehomed because the person is no longer able to care for Sammie due to her age. He has had another owner (another person who went into a retirement home) prior to coming to us. Sammie is a very independent dogs and is very adaptable. He doesn't need/seek cuddles but will have a pat or two.
Sammie would suit someone who doesn't mind paying for grooming. He would stay at home on his own without fuss.
He is NOT a dog that would suit someone active, or has children that want to play fetch !! He's comfortable in his own company.
Cost: $250.
You will need to pay to regsiter Sammie with the City Council. He's presently registered with the Waimak district council.
If you are interested in Sammie, please fill out the form in the first instance. If you have questions, email us.

We may have a few people that are interested in Sammie, so please fill out the form to give us as much information as you can.