Pixel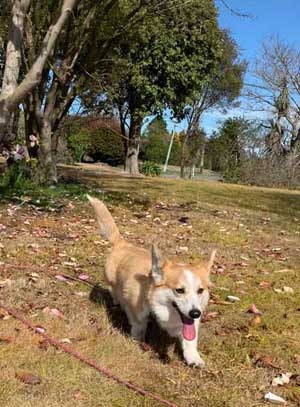 Pixel REHOMED -- thanks for your enquiries

Pembroke Corgi- almost 3 years old- Male- neutered
Pixel is a pure breed Pembroke Welsh Corgi. His previous owners taught him basic commands, like "sit, down, stay, eat, come on, paw, roll". He's super food driven and likes carrots! The previous owners both work full time and didn't have time to put into his training, and did not fit into their overall lifestyle.
We know Pixel from a previous homestay. From our observations, Pixel will make a great companion. Here are some of his characteristic;

* comes when you call him (see video)
* plays well with dogs (see video of Pixel playing with Pearl.
* lives well with other dogs and is not possessive
* can bark at little unexpected noises, but with strong 'Argh!" from us, he stops. Although our living room window faces the outside world, his alert barking isn't much of an issue.
* lovely lovely natured dog- looks like he's constantly smiling
* easy to train as he's food driven, and can play some great sniffing games with him.
* he does tend to jump on people when first meeting, but with training this can be changed to a sit.
* loves his walks and doesn't get distracted with constantly sniffing the ground (can be an issue with other breeds)
* sleeps well at night.
* he is toilet trained. Sometimes dogs that don't know their environment can unirate inside because of stress or anxiety, Pixel has displayed none of that.
* walks nicely on a lead (see video)

We are looking for a family who are mostly at home, not too busy but likes to walk and go on walks, has an understanding on owning a dog and can live with the occasional bark). He is being rehomed because the previous owners didn't have enough time and they want a family that do!

Cost: to be discussed- The cost of Pixel also includes his crate, a lot of toys and other 'goodies' from the previous owner and the following
the book Love Has No Age Limit- Welcoming an Adopted Dog into Your Home by Patricia McConnell,PHD (worth $25)
4 weeks Life Skills Class (worth $110) UPGRADE extra $125 for Private Consultation when you first get Pixel.
microchipped (up to $80 depending on where you go)
registered -- owner needs to change the ownership and that price is incur by new owner
cheaper homestays (can save hundreds if you use us!)
ongoing help with training via email/phone after taking our class (priceless!)

If you are interested in Pixel, please fill in the application form

** READ THIS PLEASE **

There is a 4 day trial. SAYING THIS, we have built up a good enough profile that you really REALLY need to talk and discuss with your whole family prior to putting your application forward. Application from those who know the breed, can give time to Pixel, and wants to have a great dog welcomed in their home.

The 2% of dogs that have been returned to us was either: they didn't talk to their whole family and they weren't all on board (EVERYONE in the FAMILY NEEDS TO COME and meet PIXEL), they discovered they had a fear of other dogs approaching their dog.

Our rehoming success rate is very high and proud of this. Let us find the right owner for Pixel first time. Is this you?