REHOMED- Ollie the Black Cocker Spaniel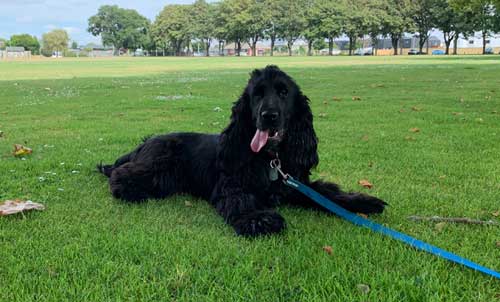 Ollie - the Cocker Spaniel
10 month old purebreed black English Cocker Spaniel
Born: 19/04/2022
Registered in Christchurch, Fully vaccinated, and Microchipped
Ollie is gentle natured dog. He is smart, lovable and full of energy
Ollie walks well on a short leash, distracted by his nose when walking in the park, needs a bit of work on his long distance recall as he can run a ways, but responds to my whistle 80% of the time. When outside near our house, he comes back when asks to come inside.

The previous owner feels that Ollie would be suitable with a family with children OVER the age of 10 because he likes to jump on people, however, since living with us, he's learned to have all 4 paws on the ground.
He had put his paws on the kitchen bench at his previous owner, but he's learnt that this is not considered good manners at our house.
He has been trained to stay in his crate when the owner is away from the house. -- although he would cry in his crate if the owner was watching TV. But quickly settles down.

He goes in our crate to lie down when the door is open. I would strongly encourage the next owners to buy a crate for him.
The new owner would, preferably, live in Christchurch, and agree to stay in touch with the previous owner (she would like to make sure that Ollie is in good hands), Saying this, it is just initially so she knows he's well taken care of.
Our Life Skills Class is given on Sunday's morning-- the new owners will be keen to come to Life Skills training and/or pay extra for a one-off training session in their home.
Things to think about; Do you have a suitable largess crate, food bowls, bed and suitable food for a still developing Dog?
Cost includes:
the book Love Has No Age Limit- Welcoming an Adopted Dog into Your Home by Patricia McConnell,PHD (worth $25)
4 weeks Life Skills Class (worth $135)
microchipped (up to $80 depending on where you go)
registration-- owner needs to arrange the change the ownership, we can assist but 'registration' (balance of the year) and that price is incur by them. We recomend 'companion animal' identification.
cheaper homestays (can save hundreds if you use us!)
ongoing help with training via email/phone after taking our class
* Solid treatbag with room for your cellphone! (worth $45+)
We will contact you once Ollie is living with us.

There is a 3 day trial. If for whatever reason you do find Ollie doesn't quite fit into your lifestyle, he comes back to us and your money refunded less $100 service fee.

There is a cost for Ollie and this will be discussed with the new owner.


If you don't wish to take the class, the cost is the same. (ie: we will consider 'dog experienced' prospective owners.)
If you are interested in Ollie, please fill in the application form