Lenny found a great home
Breed: Spoodle / Border Collie-- Parents = spoodle and border collie x poodle
Gender: Male intact
Age: 6 months. Born 3 December 2022.
If interested in rehoming Lenny, please fill in this form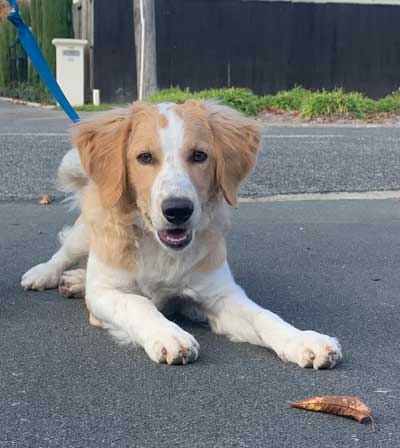 Lenny is healthy and very much a companion dog - The owners work from home so he chills under their desk and understands the drill when they are at the desk working.
Can entertain himself but definitely prefers company and stimulation.
Lives with a cat and is uninterested in the cat.
He loves everyone. Humans, dogs, cats - every person we pass on a walk, every dog.
Packs of dogs running round a park are his dream activity. Recommendation for Lenny is for the new owner to do agility or some nose work in order to give Lenny a job to do. A typical puppy that wants to learn more about the world.
Sleeps through the night in a crate. Naps on floor round the house, though is more settled when the people are still and not moving around. He has a kennel with a run which he is 'okay' with being in, though they have not left him in it while they are out. The large kennel can go with the new owners.
The owners said that he's lately discovered barking, not a lot, but when he hears a strange sound outside and wants to go respond. This is to tell the people inside the house that there's a stranger. As long as you acknowledge that his job is done, he would be fine.
He's clever. He has the basic commands (sit, stay, come, down, rollover), and working on drop-it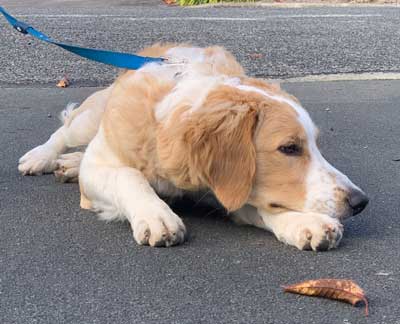 He happily eat rocks, poo, festy grass on a walk however, being a puppy, he's discovering the world.
Lenny is still puppy-ness and is trying to see 'what works' in order to get people's attention.
He pulls when walking - not all the tim. They have taken the lead off and let him roam with dogs in a park, he tends to stay close to the owners and keep an eye on where they are.
He isn't fond of car rides as he was car sick as a puppy. Short trips okay. Good to put him in a crate in the car to avoid any 'accidents'
Price: to be discussed but it will include the following
microchipped (up to $80 depending on where you go)
registered --change of ownership. [Your date of birth, for ID, is now required to register a dog in Christchurch.]
cheaper homestays if we have space (can save hundreds if you use us!)
ongoing help with training via email/phone after taking our class (priceless!)

If you are interested in Lenny, please fill in the application form