Rehomed- Eddie
Eddie needs a home with a family that has time for him.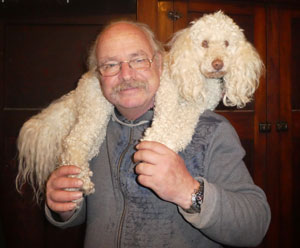 Eddie is a 7 year old male Poodle
Eddie lived with an older gentleman. Unfortunately, he couldn't care for him because he had to go into care. His family would have loved to given Eddie a home, but they also have dogs, and feel that they cannot give the necessary time for him. Which is all OK because he wouldnt be here, you reading this and us enjoying having him with us.
He is getting his daily dose of playing with other dogs and having individual attention. Eddie has great social skills.
Eddie enjoys walks in all weather, loves water and doesn't pull on a lead. Well he would do all that stuff, he is a typical poodle. He knows his name and comes quickly to it. He sits, and likes all manner of treats, carrot is a fav.
But there is more to Eddie, he's empathetic. He's the Dog you dont need to tell to move over, jump over the back or make some room.... he has all that stuff figured. He gets it. Just gesture.... tell him what you want and praise him when he gets it right. Soon enough he's that dog you dont need to tell stuff too.
He could have another ten years, just think what 'experience' brings...
I neednt mention that he likes being brushed, bathes a breeze and is social. Nimble around the house, he will let you know he is missing you, cant find you, or needs let out.
Price: $335.00 includes a private consult (worth $120) to make sure that Eddie fits into your life and your family's life.
Bonus: Client prices are applicable for homestays for Eddie. He knows us, and is welcome to stay subject to availability.
Interested? Email us on info@nakeddog.co.nz
Tell us why you are the right person for Eddie- fences? family? ability of giving him walks? etc..
OR Ring us on Chch 389 4065