Rehoming Stella and Grizz-
Stella- 4 years old year old female Golden Labrador
Grizz, a 5yrs old male classic Black Labrador.
Due to changing circumstances, a young Christchurch family has asked us to find the perfect home for both.
These two unrelated Labradors have been enjoying a rich and stimulating life with a couple who now have two young children with all that that means.
Both Dogs are
* good health,
* fit and energetic
* good with kids, and other dogs
* excited barkers
* well accustomed to living in a home with a yard.
* both dogs pull on a lead, however this is trainable, and/or a harness/Gentle Leader can be used.
* unsure if they would chase cats
Ideal new pet owner:
Each would best settle into being 'just one' in a family with older children or maybe even a solo or couple situation, who would love an easy clean living house pet with solid people skills. Needless to say-- active and social lifestyle.

Price on application: Please fill in this form if you are interested in adopting one of these dogs, or both together

As we are dog trainers, the cost for each dog includes:

1) dog training in our September class (($125)
2) dog treat bag ($35)
3) a book called Love Has No Age Limit- Welcoming an Adopted Dog into Your Home ($25)
4) microchipped and fully vaccinated (0ver $150)
8) Discounted homestays

Would we consider finding them separate homes, Yes!
Each dog needs to be walked separately as they are pullers, therefore, each need individual attention.



The video(s) shows a bit of best and worst... this has been is a case of both 'feeding each others' so exercising time had become increasingly difficult.
Stella, the 4yr old Golden, is currently more responsive to food reward training, but to the point it becomes a distraction. She would benefit from "Yes" training.... so she comes with our assistance - our four week training course is included.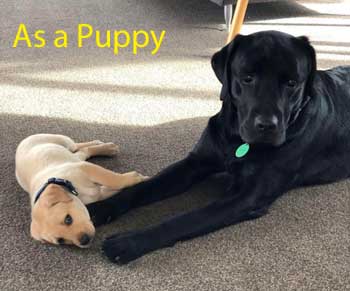 "